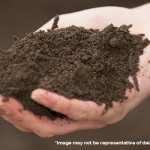 If you're looking to create new herbaceous borders or a productive vegetable patch then you'll need good quality topsoil. But how do you ensure that the topsoil you buy is the best for your garden?
When do you need topsoil?
• If you live in a new build home where the topsoil has been stripped away during construction
• If your garden is entirely paved and the topsoil is either absent or compacted beneath the slabs and you're installing raised beds
• If your existing topsoil is of poor quality or has been damaged or compacted over time
Choosing your topsoil
The grade of topsoil you'll need depends on what you'll be using the topsoil for. If you need topsoil in bulk, for example if you're levelling a garden, then 'as dug' economy topsoil is the sensible choice. This grade prioritises bulk over quality but is ideal for landscaping projects.
A general purpose grade of topsoil is ideal for creating beds and borders and laying lawns. This type of topsoil is ideal for kick starting plant development or even for using as a top dressing for established lawns.
If you grow a lot of container plants, or want to improve the structure of established beds and borders, then quality sandy loam is essential. Premium topsoil is ideal for giving everything in your garden a real boost to ensure top quality results.
Tips for buying topsoil
• Always try and check the topsoil before you buy it, or buy from a trusted online supplier
• Look out for red flags like high stone content, roots and weeds which can contaminate your beds
• Buy locally whenever possible - topsoil suppliers in London should be able to provide you with local not-imported topsoil which can contain invasive species like Japanese knotweed
• Always check the analysis reports for the topsoil you're buying which should fall within British Standards for pH, phosphorous, potassium and magnesium.
Buy your topsoil from the experts
At the London Topsoil Company we offer quality, value and service throughout our range of topsoils. Whether you need to buy in bulk or want the best possible results, we have a grade of topsoil to meet your needs. Our topsoil is independently tested to be 100% safe and non-toxic and meets British Standards for safety and quality to give you the best possible results. If you need topsoil for your garden, contact us today for more details.